Thanks to Blacksmiths of Lebanon we can see just how the division in Lebanon is going to take place.
National Electoral Divisions

:
Akkar [District]
Tripoli [City] + Mina [Municipality] + Qalamoun [Town]
Minya Donieh [Caza]
Bsharreh [Caza]
Zogharta [Caza]
Koura [Caza]
Batroun [Caza]
Chouf [Caza]
Aley [Caza]
Baabda [Caza]
Metn [Caza]
Kesrouan [Caza]
Jbeil [Caza]
Saida [City]
Zahrani [villages surrounding Saida Zahrani]
Sur [Caza]
Jezzine [Caza]
Nabatieh [Caza]
Marjayoun and Hazbayya [Caza]
Bint Jbeil [Caza]
Western Beqaa and Rashayya [Caza]
Zahleh [Caza]
Baalbek [Caza] and Hermel [Caza]
Beirut Electoral Districts
Ashrafieh + Rmeil + Saifi
5 seats: 2 Christian Armenians; 1 Christian Maronite; 1 Christian Orthodox; 1 Christian Catholic
Bashoura + Mdawar + Marfa
4 seats: 1 Muslim Sunni; 1 Muslim Shiite; 2 Christian Armenian
Mazraa + Moseitbeh + Ras Beirut + Mina el Hosn + Zaqa el Blatt + Ein Mreisseh
10 seats: 5 Muslim Sunni; 1 Muslim Shiite; 1 Muslim Druze; 1 Christian Orthodox; 1 Christian Evangelical; 1 Christian Minorities
Sectarian Parliamentary Seat Allocations
Christian Maronites: 34 seats
Christian Greek Orthodox: 14 seats
Christian Greek Catholic: 8 seats
Armenian Orthodox: 5 seats
Armenian Catholic: 1 seat
Christian Protestant (Evangelical): 1 seat
Christian Minorities: 1 seat
Muslim Sunni: 27 seats
Muslim Shiite: 27 seats
Muslim Druze: 8 seats
Muslim Alawites: 2 seats
NEW BEIRUT
OLD BEIRUT
LEBANON NEW
LEBANON OLD (2000 Electoral LAW, Each different colour shade is one complete electoral division)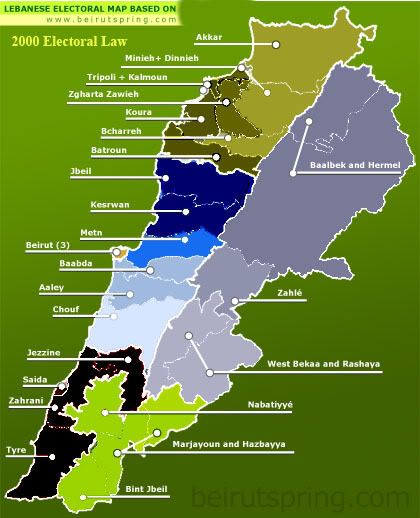 MAIN DIFFERENCE HERE: NORTH LEBANON is only 2 divisions, NORTH LEB 1 and North Leb 2.
South Leb is South Leb 1 and South Leb 2....
The new Doha agreement splits these mainly all up into smaller sections. The rest of Lebanon stays mostly the same with a few split ups including Beirut.